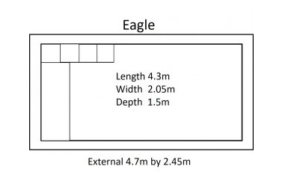 The Eagle has landed at Endless® Pools & Spas!
If you haven't heard of the Endless® Eagle, you are missing out on the early release of our 2021 Swimming Pool model. 
The Eagle Plunge Pool has four entry steps and a long bench seat that can comfortably seat 3 people. The open swimming space is perfect for family and friends to splash around and cool off during the warmer months. For eager swimmers the option to add the Badu Swim Jet System or Swim Harness will allow you to swim on the spot continuously for a great workout. 
This 4.3m long pool has great depth, and with the included bench seating area, you can sit back, unwind and relax with the option to add large hydrotherapy spa jets for powerful massage. 
The Australian-Made plunge pool is unique as it can be installed entirely inground, semi-inground for sloping blocks or to meet elevated outdoor spaces, or completely freestanding. PLUS, it's overall finished look can be enhanced through our EdgeCap Technology which involves covering with a coping paver or decking.
Fun Fact: The Swim Spa / Plunge Pool range was one of the most popular sellers for Endless® Pools & Spas in 2020!
Well, now that you know a little bit more on our Endless® Eagle, do you want to be the next Eagle Pool owner? If so, contact us today by calling us on (03) 8769 7300 or fill in our online Contact Us form.